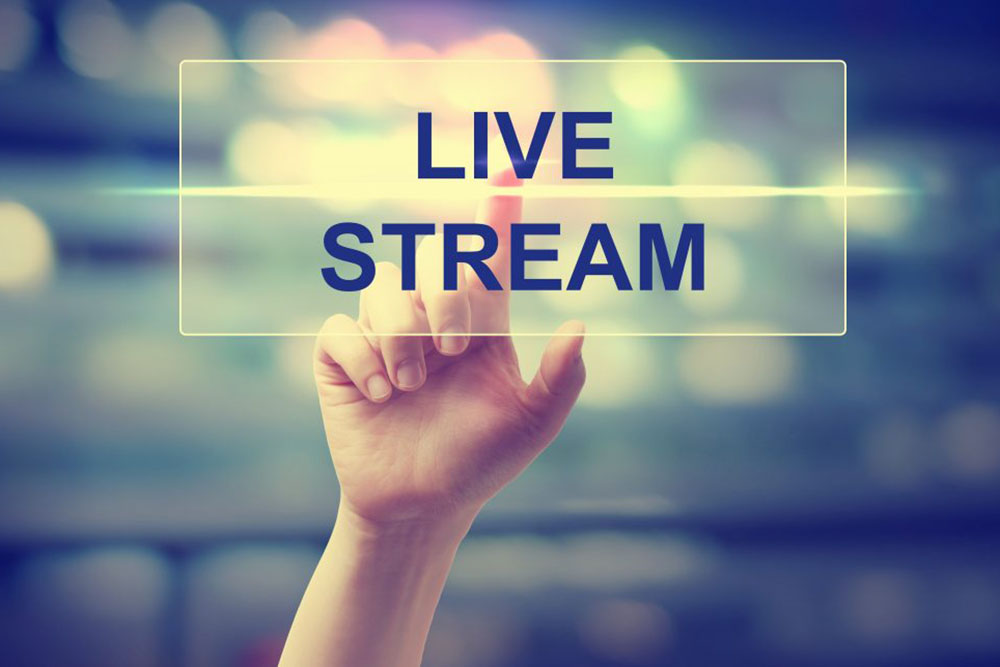 Our Lord's Online
Worship online with us each weekend - Saturdays at 4:50pm for Praise Worship or Sundays at 9:00am for Traditional Worship! (summer schedule for June-Aug)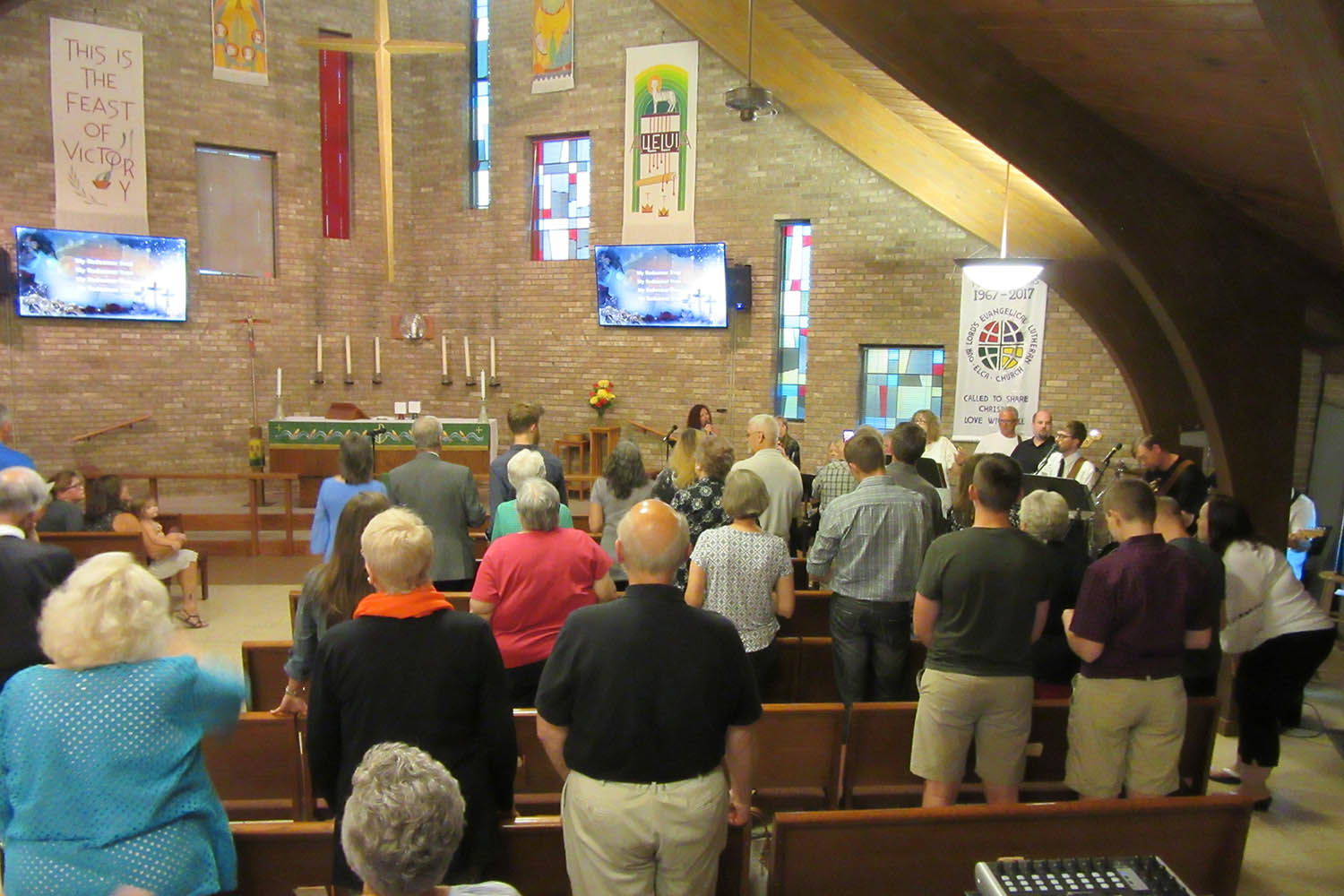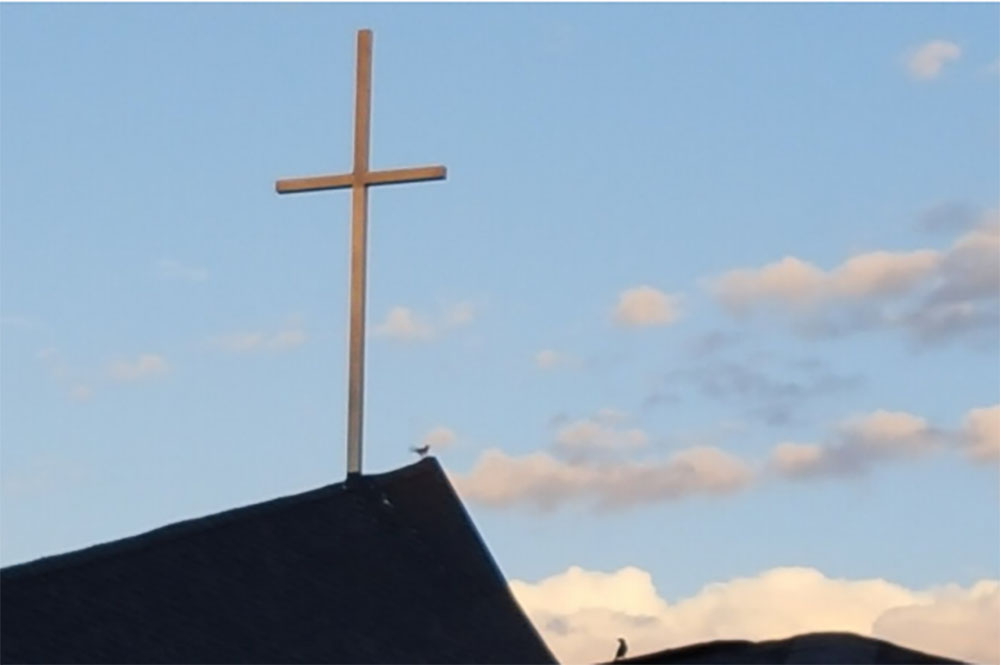 Restoring Our Lord's House
Learn about our Capital Campaign to raise funds to improve our Worship Center. Prayerfully consider making a sacrificial gift.

Fair Trade Ministry
Shop to support Equal Exchange and SERRV International.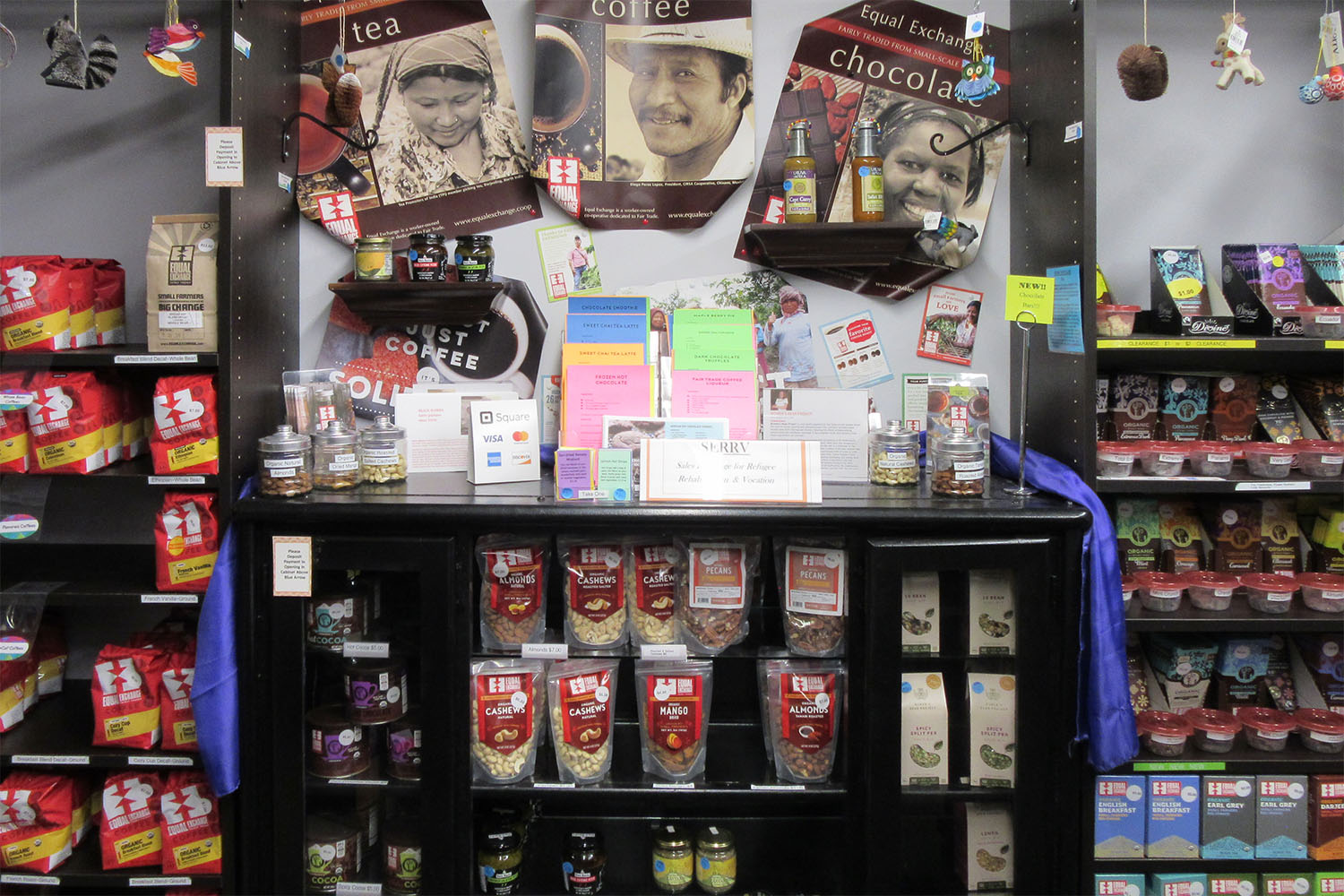 Events & Announcements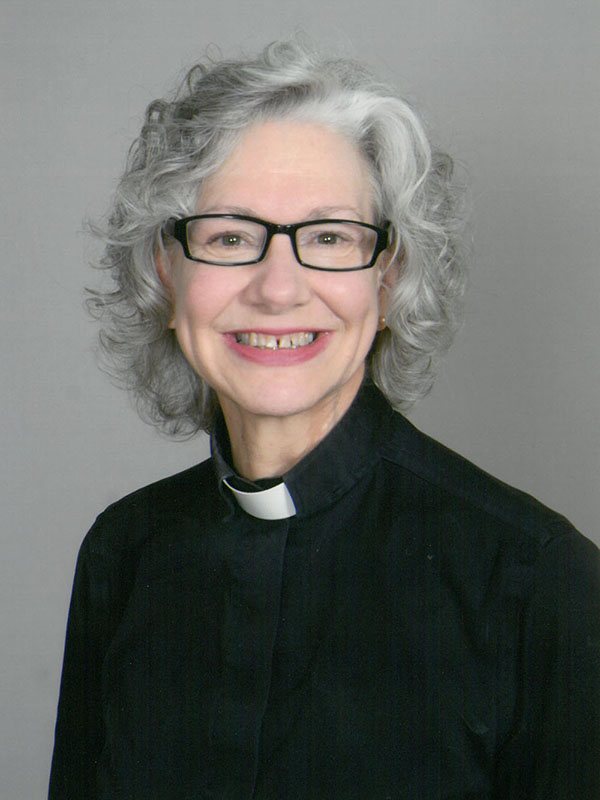 Weekly Wanderings
Sometimes, Pastor Darla Ann's weekly video message is one of devotion, encouragement, and loving community. At other times, the message reflects on especially relevant aspects of our congregational life or cultural events that are shaping our spiritual and emotional well-being. Occasionally, the message is one of instruction, guiding us on the path of justice and truth, and helping us develop new tools and resources essential in our call to live as people of faith in the world today. Please take a moment and click below to view this informative video message from Pastor Darla Ann.
Vacation Bible School 2021
This year's VBS, entitled "Rocky Railway: Jesus' Power Will Push Us Through," is taking place once a week in July 2021 on Wednesday evenings from 6:00pm - 8:30pm. VBS is held outside, and opening and closing is held inside. We will be following all recommended national and local COVID-19 safety guidelines. Sign up here! If you have any questions, please contact the church office and we hope to see you there!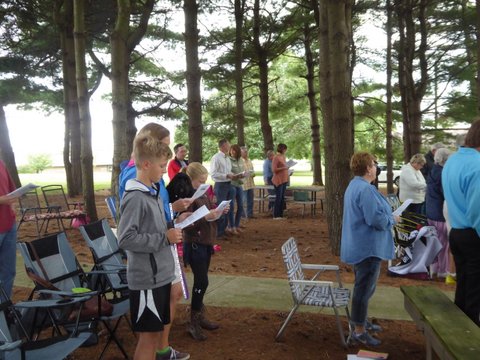 Outdoor Worship in the Chapel in the Pines
As the spring weather moves in and we experience warmer temperatures and gentle breezes, outdoor worship in the Chapel in the Pines will be available once again. Our weekend outdoor worship opportunities include:
Sunday, August 8th, at 9:00am; & Saturday, August 21st, at 4:50pm;
Sunday, September 12th, at 10:45am; & Saturday, September 18th, at 4:50pm.
Also, the "Peace in the Pines" summer outdoor worship experience continues each Thursday evening throughout the warm summer months. The final service will take place on August 5th, and you are invited to an ice cream social immediately following that service. Some bench seating is available but please feel free to bring along your favorite outdoor lawn chair, as you are able, to ensure your comfort. Please speak, sing, and engage in worship and fellowship as you are comfortable when outdoors and we hope to see you there! Masks and social distancing are not required.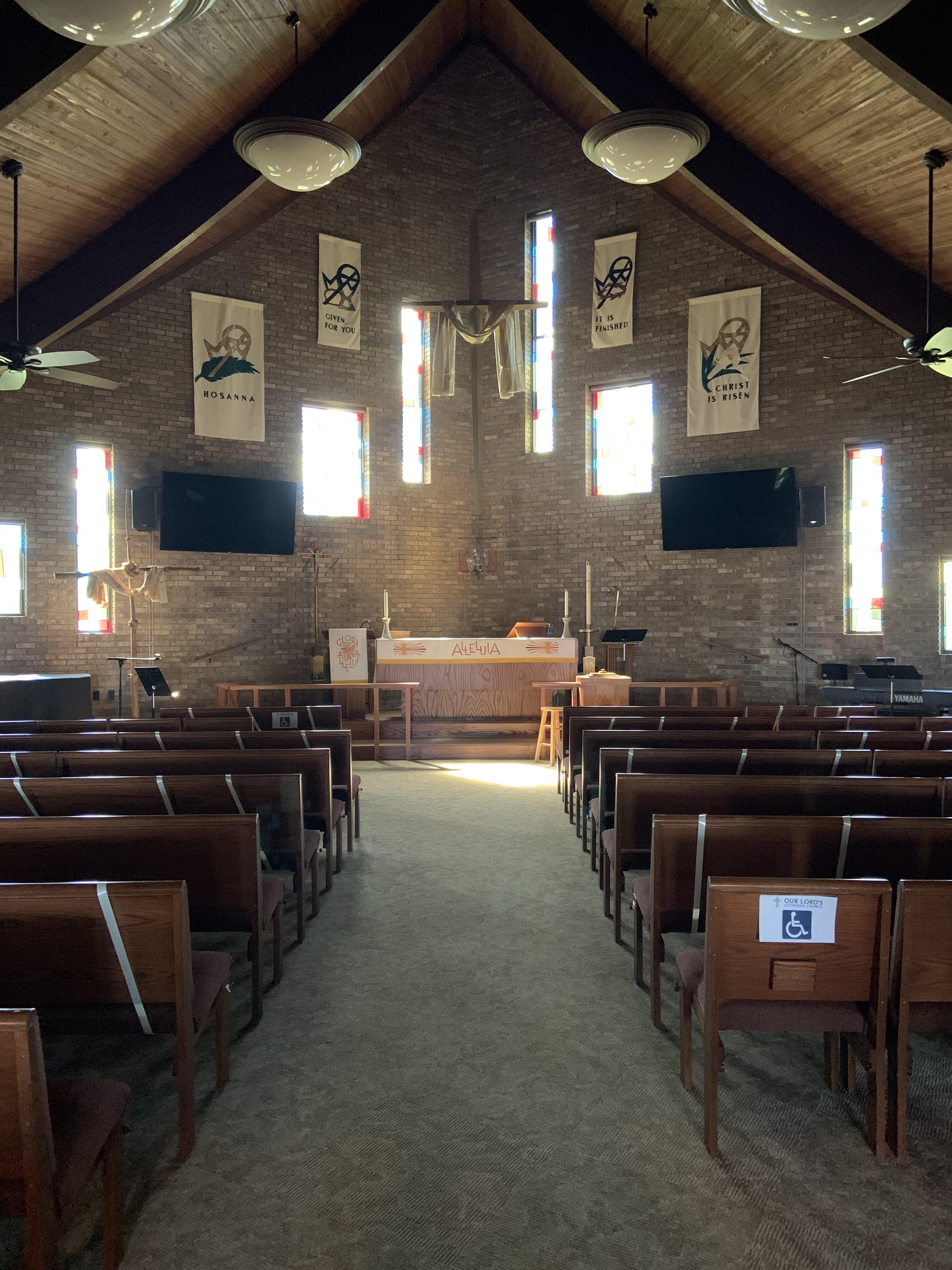 Update: Restoring Our Lord's House
Thank you for your generosity and your hard work in completing the remodeling project thus far. The mid-point in the capital campaign has been achieved. Phase 1 (paint, kitchen remodel & flooring) funds have been raised and the work is complete. The kitchen cabinets and countertops have been installed and the vinyl flooring has been relayed.
Phase 2 tasks (signage, furnishings, restroom upgrades, a/c units) are being completed as funding allows. The entry door 'Welcome' signage has been installed, the restrooms have been repainted, and the new bathroom vanities are in place. We are now purchasing furnishings for the narthex, commons area, and youth room.
Your continued physical and financial support is still needed! Please prayerfully consider making a donation to Restoring Our Lord's House. Thank you!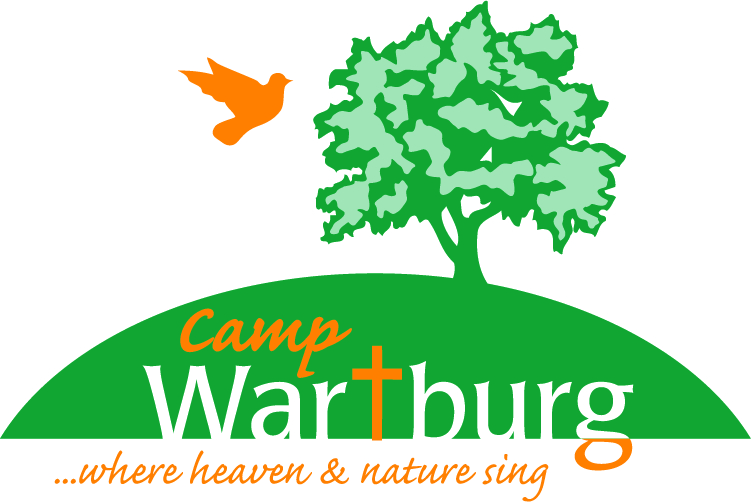 John Mohl Campership Fund Scholarships
Have you made camping plans for this summer? Consider signing up for a fun and faith-based summer program at Camp Wartburg in Waterloo, IL. At Camp Wartburg, children and families become immersed in God's awesome creation where the traditional pursuits of sports and academics become secondary to the values of curiosity, tolerance of others, self-discovery and learning-by-doing. Worshiping under the stars before a campfire becomes an exciting, joyful experience. Learning new skills is a goal, but fun is the process. Campers may learn to shoot an arrow, canoe, swim, fish, play non-traditional games and so much more. Led by college-aged counselors who love the Lord and children, campers blossom under the supervision of positive role models, function in small groups and engage in discussions around Bible studies, values and respect for other people and nature. Camp Wartburg provides day and overnight camping opportunities for both youth and families. Please contact the church office at Our Lord's for more information about scholarships offered via the John Mohl Campership Fund for these wonderful, Christ-centered, summer camp opportunities!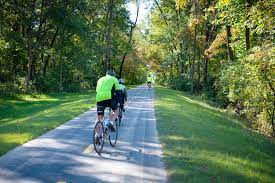 Monthly Bike Ride
Grab your helmet and bicycle and join us for our congregational monthly bike rides! These energizing bike rides take place once a month through October of 2021 (weather permitting). We meet at the Maryville YMCA for a moderately paced ride on local paved trails. The approximate distance will be announced ahead of time. Join us for some fun outdoor fellowship! We hope to see you there!
Dates include: Sun, August 8th at 2:00pm; Sun, Sept 19th at 2:00pm; and Sun, Oct 17th at 2:00pm.